Nike's CryptoKicks
Nike's patent on blockchain based sneakers called 'CryptoKicks'.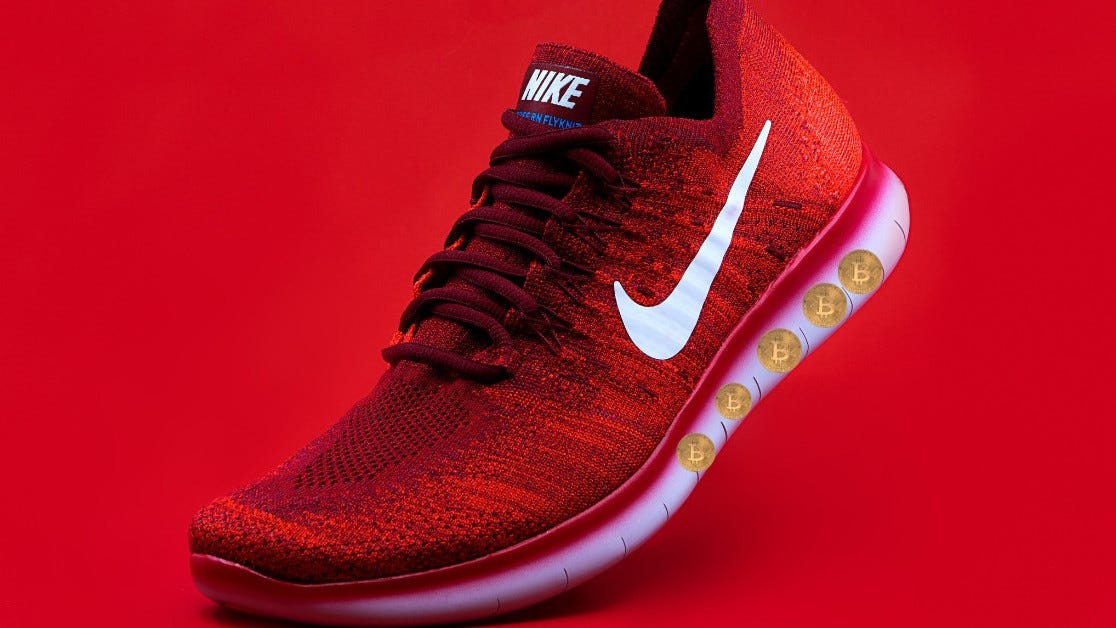 Date of patent: December 19, 2019
Disclaimer: This is my personal take on the patent and opinions from other people may differ.
1 sentence summary
Nike has a patent which enables them to use blockchain technology to fight against counterfeit shoes and allows consumers to create digital sneakers.
Full summary
Preventing counterfeits:
"Manufactures of high-quality footwear have long been plagued by the sale of counterfeit footwear, mainly imitation goods that are made with the intent to deceive buyers into believing that they are purchasing the true manufactures authentic good."
The counterfeit sneaker market is a $450 billion market, and while services exist to detect counterfeits, it is still a rampant problem. Nike aims to prevent counterfeit footwear by using blockchain technology to track ownership of sneakers and to prove the authenticity of sneakers.
"When a consumer buys a genuine pairs of shoes —colloquially known as 'kicks'— a digital representation of a shoe may be generated, linked with the consumer, and assigned a cryptographic token, where the digital shoe and cryptographic token collectively represent a CryptoKick."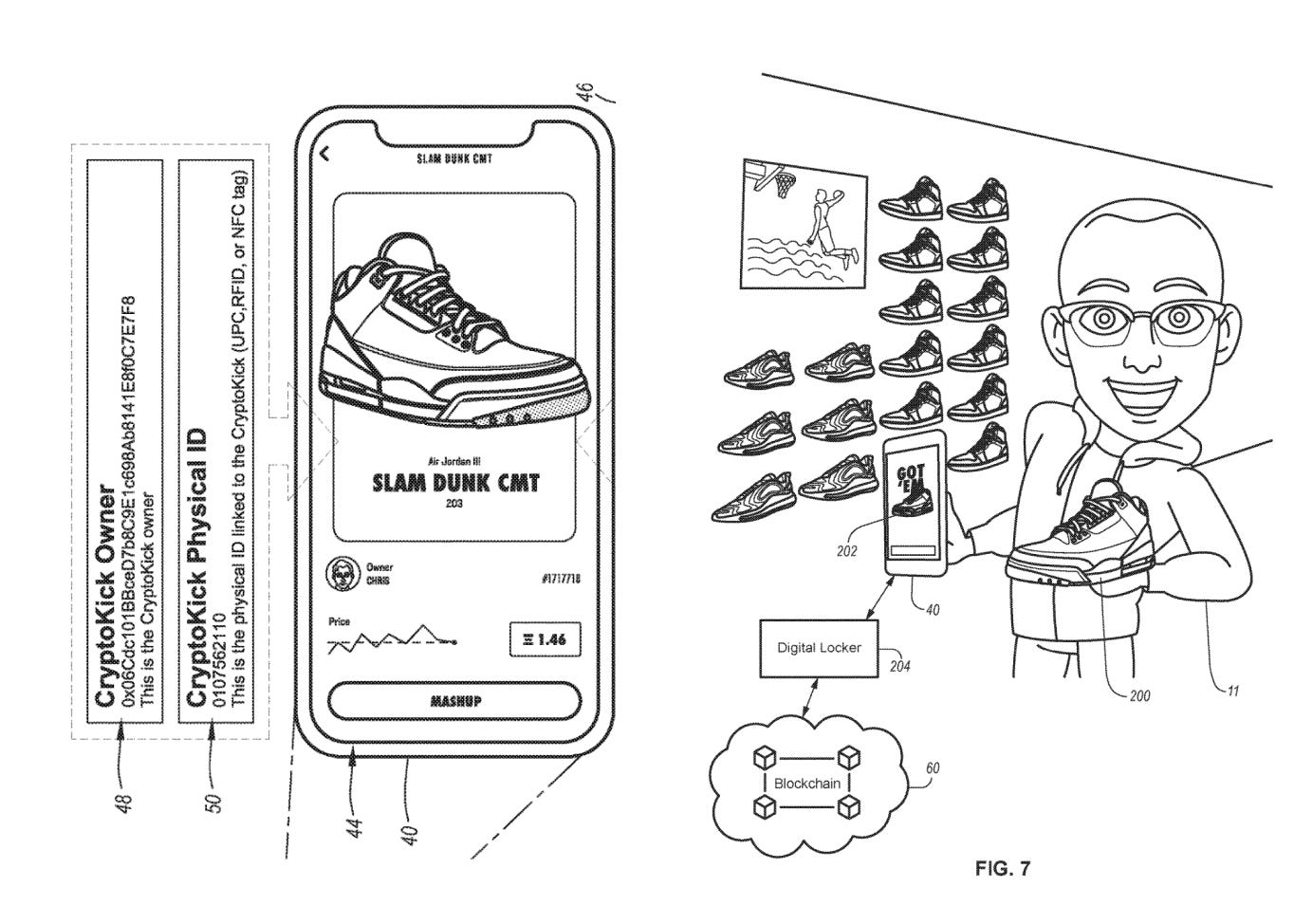 Nike proposes that each physical shoe will have some sort of identifier (QR code, NFC tag, RFID tag, etc) where the consumer would use their smart phone to either tap or scan the identifier after purchase to create a unique digital representation of the shoes (called CryptoKicks).
For example, when a consumer buys a pair of Nike shoes, the consumer would scan/tap the shoes to create the CryptoKicks which would be stored in the consumer's 'digital locker'. The CryptoKicks would not only track ownership of the physical shoes, but also validate the authenticity of the shoes. When the consumer wants to sell the physical pair of shoes, the buyer can see the seller's CryptoKicks and be confident that the seller is the owner of the shoes and that the shoes are authentic. After the sale, the CryptoKicks would be transferred from the seller's digital locker to the buyer's digital locker.
'Breeding' new shoes
Alongside counterfeit prevention, Nike also plans to use the same blockchain technology to allow consumers to 'breed' new shoes.
"Using the digital asset, the buyer is enabled … to intermingle or "breed" the digital shoe with another digital shoe to create "shoe offspring" and, based on the rules of acceptable shoe manufacturability, have the newly bred shoe offspring custom made as a new tangible pair of shoes."
Owner's of CryptoKicks would be able to create new shoes by combining their digital CryptoKicks in their digital locker. This would not only allow consumers to have unique pairs of physical shoes (if manufacturability of the new shoes are acceptable), but would also allow Nike to create their own CryptoKitties like game and digital marketplace.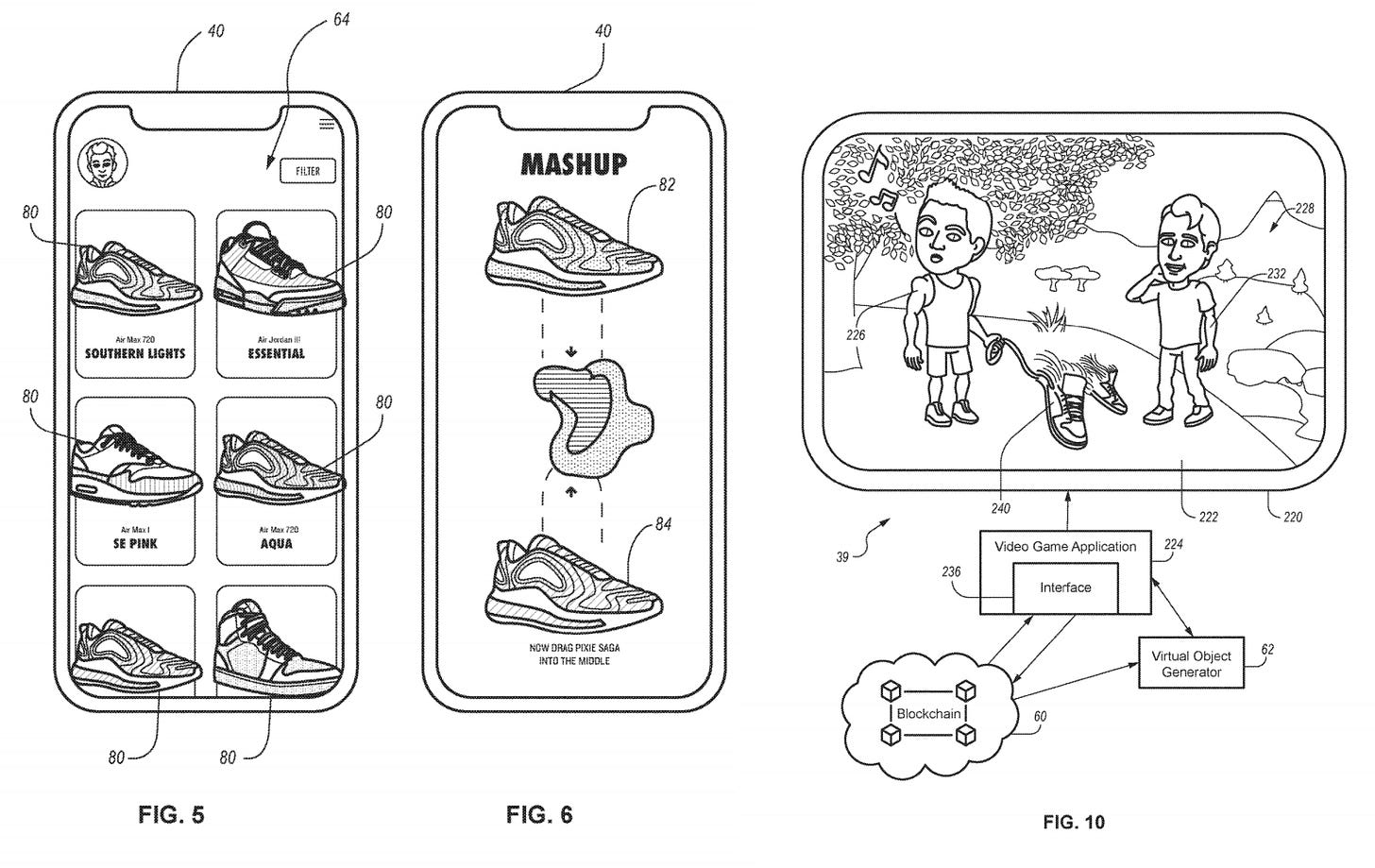 For example, a consumer could take the digital versions of Nike Air Jordan 1s and Nike Air Force 1s and create a completely custom digital shoe (shoe offspring). Nike could control how rare certain types of shoe offspring are, causing demand around certain types of shoe offspring (similar to rare CryptoKitties). The consumer could either create the physical version of the digital shoe (if within manufacturability guidelines), or trade/sell the digital shoe to other consumers. Nike could also create games around these digital shoes and shoe offspring which would open up a wide range of possibilities for the sneaker world.
Some Final Thoughts
The sneaker resale market is massive and predicted to be $6 billion by 2025. Limited edition Nike sneakers resell for a much higher price than retail (Nike Air Max 90 Off-White sneakers retail for $160 but their resell value is $1000+). If Nike is able to successfully create their CryptoKicks, Nike may be able to benefit from the second hand sneaker market for the first time. Historically, only resellers have benefited from reselling sneakers, but Nike's CryptoKicks may allow Nike to benefit as well. Nike may be able to charge the reseller and buyer since Nike is providing the proof of authenticity for sneakers which allows the reseller to prove authenticity easily and allows the buyer to purchase second hand sneakers with confidence.

If the digital shoe is the proof of authenticity for the physical shoe, is the digital shoe or physical shoe more valuable? This may be a bit hard to follow but for example, if I purchase sneaker 1 from Nike, I get a corresponding digital sneaker 1 that proves that I own sneaker 1 and that it is authentic. If I were to theoretically be able to create a replica sneaker 1 (with the identifier), let's call it replica 1, and sell it to a buyer, the buyer would think that replica 1 is the authentic sneaker 1 because digital sneaker 1 'proves' it is. If I sold replica 1 and transferred digital sneaker 1 to the buyer, to the buyer's knowledge, replica 1 is authentic since the digital asset 'proves' it's authentic. The rest of the world would also think replica 1 is authentic due to the digital asset. So in theory, replica 1 becomes the authentic sneaker 1 due to the digital asset. So is the digital asset more valuable than the physical shoe then? This is just some interesting thought I had while reading that patent, I hope that makes sense lol.
Will Nike be able to create the next CryptoKitties?
If Nike implements CryptoKicks and makes it successful, this would be a huge milestone for blockchain adoption.
Thank you for reading!
If you enjoyed this, please consider subscribing and sharing!